Stay Safe – Be Healthy: Mask Etiquette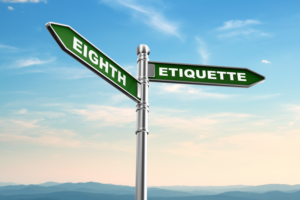 Welcome to Eighth & Etiquette on the Eighteenth! Our topic this week…Social Distancing and Mask Etiquette.
The world is slowly opening up again, and whether you're ready to pack your bags as soon as possible or if you are waiting to see how everything unfolds, it is important to have the latest information from Public Health Officials to stay healthy. Let's discuss recommendations from The CDC – The Centers for Disease Control and Prevention, to avoid illness and prevent the spread of COVID-19. (Visit cdc.gov/coronovirus)
DO – Wear Cloth Face Coverings Correctly
Wash your hands before putting on your face covering
Fully cover your nose, mouth, and chin
Fit it snugly against the sides of your face
Be sure you can breathe easily
DO – Wear a Cloth Face Covering to Protect Others
Wear a cloth mask when in public in case you are infected but don't have symptoms
Keep your mask on the entire time you are in the public
Don't place the mask on your neck or forehead
Don't touch the face-covering – if you do, wash your hands
DON'T – Use cloth face coverings on children under age 2, or on anyone who has trouble breathing or is incapacitated or unable to remove the mask.
REMEMBER, cloth face coverings ARE NOT surgical masks or N-95 respirators.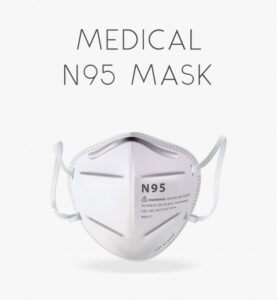 A surgical N95 (also referred to as a medical respirator) is recommended only for use by healthcare personnel (HCP) who need protection from both airborne and fluid hazards (e.g., splashes, sprays). These respirators are not used or needed outside of healthcare settings. View the CDC infographic to understand the differences between surgical masks and the N95 mask.
DO – Observe Social Distancing Rules
Maintain 6 feet distance from others
Avoid contact with sick persons
Wash hands often, with soap and water, for 20 seconds
Use hand sanitizer when soap and water are not available
DO – Visit CDC.gov for details on these guidelines and additional COVID-19 related information.
BE A LEADER in stopping the spread of COVID-19! Demonstrate proper hand washing techniques, practice mask etiquette, and observe social distancing guidelines. Share public health information with those in your immediate sphere of influence to make an impact on flattening the curve.


Stay Safe and Be Healthy!